Plastician pouring pints, free pizza, Four rooms of underground music, one massive night!
Tickets available via Resident Advisor here
Taking place on 26th August the Brick Lane Summer Block Party will run over four carefully curated spaces from 6pm until 4am providing a one stop shop for all your bank-holiday party needs.
The newly revamped Cafe 1001 welcomes Dimensions Festival affiliate Harri Pepper who goes b2b with NTS resident Ruf Dug. Expect the unexpected as two of the UK's finest selectors go tune for tune for the first time ever with some no-nonsense party starting and odd ball selections. Completing the bill is Ella Knight, who will no doubt dig deep with her soulful and disco-inspired house selections plus Cafe 1001 resident Jake de Glanville.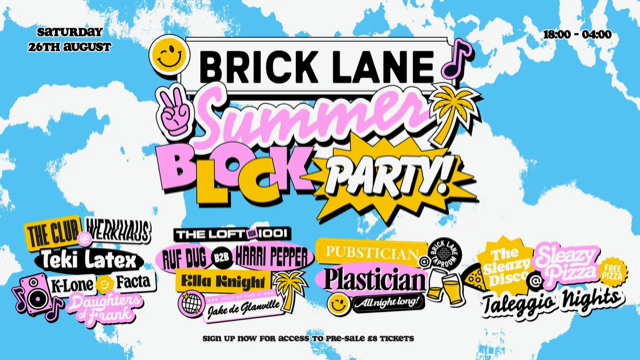 Werkhaus, one of London's best kept club secrets, next door to Cafe 1001, will play host to self proclaimed 'King of Blends' and the living embodiment of the Parisian underground, Teki Latex. Wisdom Teeth label head-honchos K-LONE and Facta will cut their teeth on the thumping Werkhaus Funktion-One Sound System for the first time with their trademark blend of 2-step, Baltimore, post-dubstep to deep house all with with swinging drums and high-pressure bass that they are fabled for. Finally Rinse FM residents and fast rising duo Daughters of Frank, who are known to take the vibe deeper and darker as the night goes on, complete the Werkhaus line up.
Fancy a quick pint served by Plastician…? The legendary underground producer and DJ will be playing both landlord and selector as he takes over Brick Lane Tap Room all night to present 'Pubstician'. Serving up his signature dubstep flavours he'll also take you on a journey from Disco to UKG, House to Techno and everything in-between. As well as this there will be a limited edition beer on the night called 'Stish's Dubplate Spesh' and keep an eye out also for some pub quiz questions from the man himself in the build up to the event. Classic football shirt attire is encouraged.
For those needing refuelling the guys at Sleazy Pizza, situated next door to Cafe 1001, will be serving up FREE pizza all night soundtracked by Taleggio Nights' resident DJs who will also have their own special themed pizza available on the evening!
Venue Director Luca Pilato added: "This is an event we've really been looking forward to and we've pulled together a pretty mad lineup given the weekend it lands on. The bookings team have pushed ahead and worked around the clock to secure this one and it's getting a lot of attention! We can't wait for our next Block Party in full swing!" 
The Brick Lane Summer Block Party has got all your bases covered, so look no further, chalk it in the diary and we'll see you down the pub!
Full Line Up + Venue Splits:
Werkhaus – The Club
Teki Latex
K-LONE b2b Facta
Daughters of Frank
Cafe 1001 – The Loft
Ruf Dug b2b Harri Pepper
Ella Knight
Jake de Glanville
Sleazy Pizza – The Sleazy Disco
Taleggio Nights
Brick Lane Tap Room – Pubstician
Plastician (All Night Long)
As well as via Resident Advisor there are also a number of tickets available via DICE, Skiddle and Fatsoma.